Ecological Monitoring
The plants pay special attention to labour protection, safety arrangement and precautions and environmental protection.
To protect the water basin a special integrated station for neutralization of industrial wastewater was constructed. The station is furnished with state-of-the-art equipment. The company specialists developed technology which provides for sequential technological process. The capacity of the station is 15 m3/hour; and the efficiency of water cleaning from lead amounts to 98%.
To clean the aspiration air from sulphuric acid aerosol, the plant installed special filters of the German company Jager with catching coefficient of 98%. The filtration systems operate in automatic mode and are computer controlled.
The sanitary-ecological laboratory monitors the level of harmful emissions on every technological stage and their correspondence to permissible sanitary standards, it executes ecological and sanitary discipline control.
Environmental Management System (EMS)
ISO 14001:2004
is also implemented.
.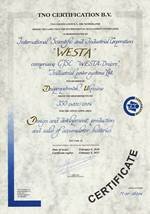 Collection and waste disposal.
The collection and waste disposal in our сompany is defined by inner normative documents including the treatment instructions with all types of wastes, as well as a plan of
action in case of hazard situations. According to the instruction, the right to treat dangerous wastes have only those persons, who have proper permissions, and have been appropriately trained. The leaders of the appropriate sites are responsible for the observance of these normative documents.
At the manufacture the following types of wastes are formed:
lead containing wastes (the residue formed after the processing of industrial wastes at the station of neutralization, used batteries, lead plates, the lead dust from the ventilation system, remains of the active paste, rejected plates) are collected in the certain place in special sealed steel containers;
luminescent lamps, containing mercury are stored in tight steel containers;
sanitary wastes before the removal to the city dump are kept in steel containers.